The Health Community and Health Conscience Consumers have developed a renewed interest in one of the most ancient of therapeutic healing practices:
~ CUPPING ~
The application of suction to the body.
This traditional, time-honored treatment remains favored by millions of people worldwide because it's safe, comfortable, and remarkably effective for many health disorders.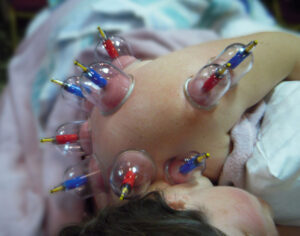 The positive effects of manual therapies are greatly increased with Cupping.
Deep Tissue Massage
Myofascial Release
Lymphatic Drainage
Orthopedic Conditions
Neuromuscular Dysfunctions
Sports Massage and Injuries
Stubborn Conditions
Fybromyalgia
Trigger Point Therapy
Traumatic Injuries
Chronic Conditions
Abdominals
Reflexology
Physical Therapy
Detoxification
Cellulite
Scars
Stretch Marks and Varicosities
Facial Treatments
TMJD's
Sports Medicine
General Relaxation and Wellness
The historical, clinical, and subjective efficacy of this modality is most impressive.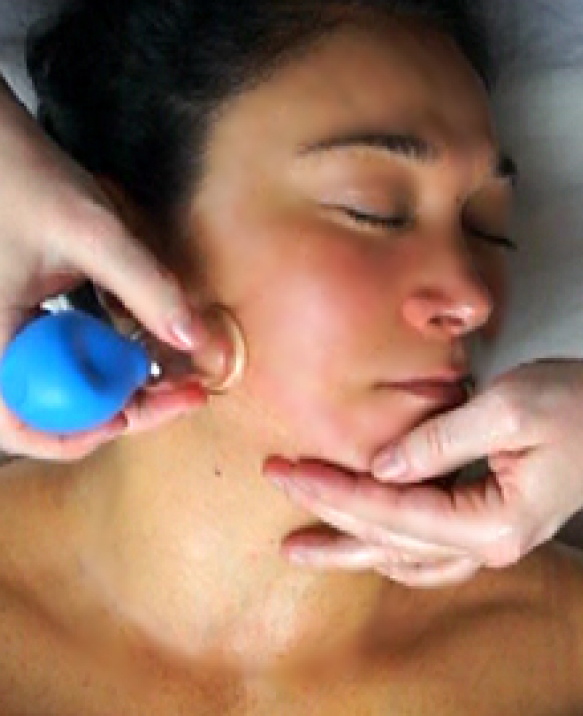 Cupping Therapy is a form of alternative therapy that has been around for centuries and involves the application of specialized cups to areas of the body in order to stimulate healing. Cupping works by creating suction on an area of skin. This generates the action of tissue decompression that promotes relaxation and healing. Cupping therapy provides many positive health benefits by releasing a myriad of pain-causing factors, making it an excellent addition to any healthcare routine.
The subjective findings derived from numerous Hospital, Clinics, Institutions, Spas and Private Practices has validated Cupping Therapy as being superior in the majority of applications compared to what health practitioners were previously using to treat their clientele. Objectively, patients are reporting the results as being rapid and long lasting, with such overwhelming enthusiasm as to drive even the Allopathic Medical Industry to incorporate Cupping Therapy as a quantitatively effective and respected method of healing.
In the Western countries Cupping has fast become one of the hottest holistic healing treatments due to its ability to reduce muscular tension and inflammation, increase blood and lymphatic flow locally and systematically, draw out stagnant blood and lymph, dead cellar debris, pathogenic factors and toxins, stimulate the body's circulatory and immune system functions. Cupping doesn't just feel amazing; it can also help with chronic pain, myofascia release, digestive issues, fatigue, sciatica and fibromyalgia, as well as mental health issues such as anxiety and depression.
Therapists train with the International Cupping Therapy Association to learn about this amazingly effective therapy to include history, theory, methods, equipment, treatments, safety and contraindications to treat their clients and achieve effects that are profound, cumulative and long lasting.
Many therapists report their results as being "miraculous" for their patients and prolonging their careers by decades.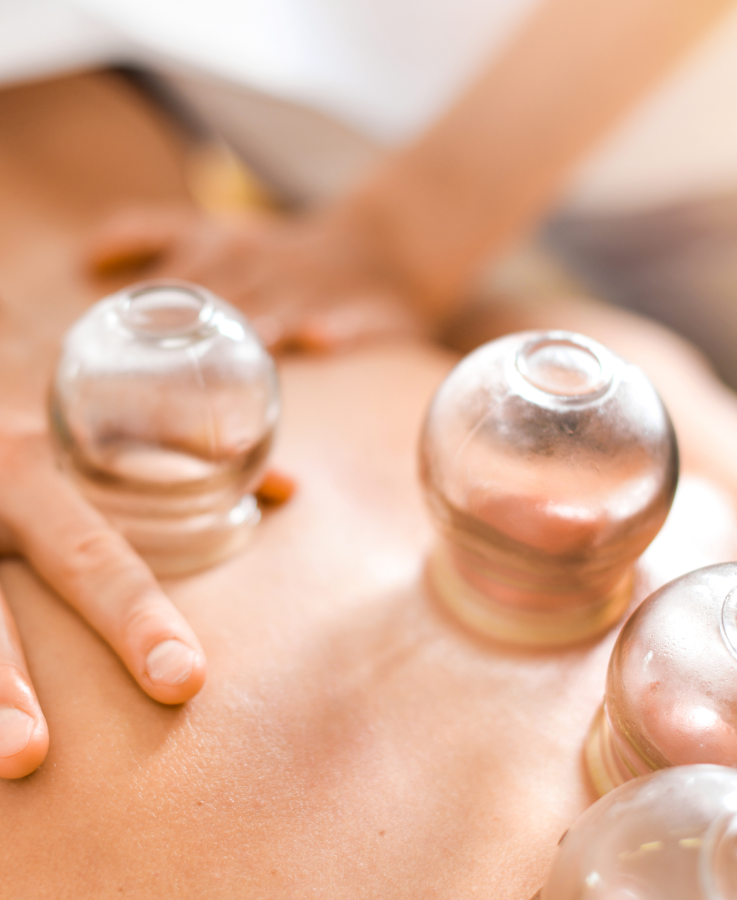 Another extremely valuable aspect for healers is the reduced wear and tear to the practitioner. The physical repetitive activity is tough on the Healthcare Provider – tools used in Cupping greatly increase the practitioners' comfort and physical longevity – thus extending the longevity of the therapists' career exponentially. This fact alone merits attention from every Medical Professional.
Consumers now demand greater access to this effective treatment in private practices, clinics, hospitals, professional sports teams, wellness centers, corporate retreats, cruise ships, recovery programs, retirement facilities, high-end spas and hotels. Even burn centers, dental offices and VA Hospitals are integrating Cupping Therapy for their patients.
The ICTA provides comprehensive 1, 2 and 3 day workshops in Cupping Therapies for all Healthcare Providers. ICTA Members have access to marketing materials, studies, training, specialized treatments and International Representation.
The specific origin of Cupping Therapy remains in obscurity – the consensus is that the action of suction has been part of therapeutic efforts throughout human history, migrating with human tribes along migratory routes. These ancient cultures used hollowed out stone, animal horns, bones, bamboo, nuts, seashells and gourds to purge bites, poisons, pustules, infections and skin lesions from the body, and many of these tools are still in use today. Ancient healers also used Cupping devices to draw evil spirits out of the body and to balance the humors. Earthenware and metal were fashioned into Cupping vessels before the development of glass, plastics, rubber and silicone.
Cupping therapy was used in Egypt dating back some 3,500 years, where its use is represented in hieroglyphic writing. The earliest recorded use of Cupping is from the famous Taoist alchemist and herbalist, Ge Hong (281–341 A.D.) In ancient Greece, Hippocrates recommended the use of cups for a variety of ailments, while in the early 1900's eminent British physician, Sir Arthur Keith, wrote how he witnessed Cupping performed with excellent success.
Suction Cup Therapies remained a constant in professional medical treatment throughout Europe. It was practiced by such famous physicians as Galen (131-200AD), Paracelsus (1493-1541), Ambroise Pare (1509-90) and surgeon Charles Kennedy (1826).
In China, extensive research has been carried out on Cupping, and the practice is a mainstay of government-sponsored hospitals of Traditional Chinese medicine (TCM). The fundamental therapeutic value of Cupping has been documented through several thousand years of clinical and subjective experience and has advanced its application to many areas.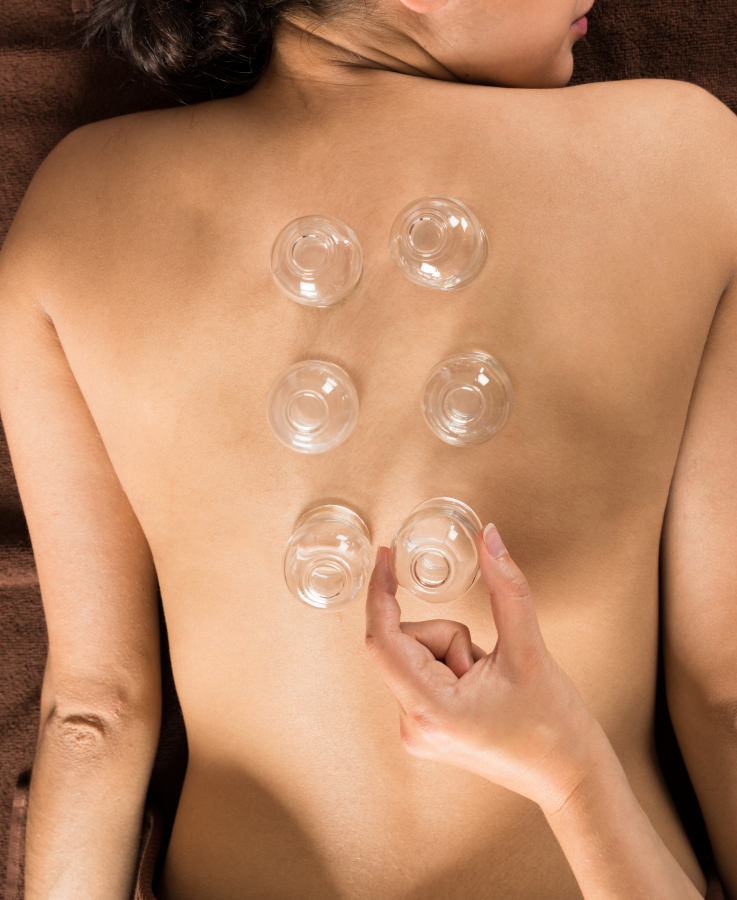 Women healers in communities throughout the world practiced the use of suction to purge, stimulate and heal, passing down their knowledge to apprentices and as family tradition. Cross cultural studies show that Women represented a major source and influence as healers in many cultures, with people traveling for days to reach a well known healer. Reliable sources hold that Cupping throughout Europe, Nordic Countries, Africa, and Asia was usually performed by the Women in the communities. However, by the thirteenth century, many universities incorporated a "modernized" chemical and biomedical studies in their curriculum, excluded Women. Despite the well known fact that non-official "folk medicine" has been poorly represented in the modern medical paradigm, Women would have continued to play a major role representing in holistic health care had they participated.
Although the use of Cupping has remained popular throughout many cultures worldwide, the 20th century rise in the Pharmaceutical Industry and it's stranglehold on allopathic medical practices caused its widespread decrease in many Anglo-Saxon societies. Because Cupping (along with many other Holistic Healing Arts) was only a tactile treatment, it was inconsistent with this new pharmaceutical system, which quickly moved away from proven hands on holistic and manipulative therapies of generations past.
Even the North American Indians who used Buffalo Horn, seashells, gourds and bones for Cupping – once its people were herded into reservations their traditions of health maintenance and healing were replaced.
I want to let you know about the improvement my husband of 47 years is having after his therapist started doing cupping for him.  He's overall less achy (and grumpy), he moves easier and he is sleeping, mostly through the night with less bathroom trips and his snoring has decreased noticeable (this I appreciate a lot).  Way more energy during the daytime.  He's sold on it and doesn't try to get out of his therapy appointments.  I have set up appointments for myself and our son who is a college athlete.
I am amazed at the profound effect of the Cupping treatment and how quick the results occurred. I wasn't expecting as much of an emotional release of "crud", but my channels were opened and negative energy released.
At my massage appointments, my therapist has been using cupping techniques that have been very beneficial to my physical and mental health.  Having Fibromyalgia and muscle adhesions are painful are not helped with just hot and cold packs alone.  Cupping releases my stuck muscles and allows circulation; it has ultimately helped in preventing chronic muscle pain and spasms.
I feel that without my therapists' use of the cupping tools during my massage, the release of my painful stuck calf muscles and the deeper massage I'm getting and need would not be possible. Massage Cupping saves time and energy, and it resolves my pain quickly.
I wanted to provide feedback on the cupping technique I experienced.  When I first tried it I was feeling sore, tense and stressed out and Cupping was very helpful.  I enjoy it and continue the treatment in other visits. The cupping has a cleansing effect and has purged toxin out of my body.  Thank you for this wonderful treatment you provide.
I have been treated with negative pressure massage for the past 3 months.  This type of therapy has offered me freedom from pain that I experienced in my upper shoulders and neck areas.  The relief has been significant, and I can only discern that the "knots" in my shoulders have been alleviated due to the effective cupping massage performed.  I am grateful for this therapy and encourage its continued work.
Our daughter has Lupus and often does not sleep due to back spasms.  Her PA referred her to a local therapist who does Cupping.  After her first treatment, she felt sick for several hours but that night she slept… and slept until mid-morning – she never does this.  After the second time she didn't feel sick and showed more energy and increased appetite over the course of the next week.  She has had several treatments over the last couple months and we are really seeing improvements in the quality of her life – she wants to stay on this treatment plan.
I have had the pleasure of being 'Cupped', by my therapist. She didn't start using this treatment until the last few months, but when she did, I was amazed at the results! I had very tender spots on my arms, from the tops to the inner parts of my elbows that she had been working on with various techniques from rotating hot and cold compresses, deep tissue work etc., and when she started the cupping treatments, the areas softened and the pain was alleviated completely within a few treatments.  She cups my back and the tension seems to float away leaving me surrounded by warmth and relaxation.
I have a 16 year old surgical scar wrapped around my right ribcage from an open chest surgery where my rib cage was separated under my armpit and around the back of my lats. The scar was dense, caused binding and a constant lack of mobility around my chest. I decided to try cupping at my PTs advise and was blown away at the difference in mobility as soon as I got off the table – what!?   It did leave intense cupping marks that lasted several days. I've continued improving with each treatment – the scar is a lot softer now and my flexibility with twisting and stretching is almost back to normal. Overall I'm shocked how well it broke down the scar tissue and loosened up my range of motion so quickly with such sustained results.
I have Myofascial Pain Syndrome (MPS) and one of the treatments involve the smoothing of fascia – which is a thin sheath of fibrous tissue enclosing a muscle or other organ. Most massage treatment are painful for me.  I researched and found a cupping practitioner in the next town over so tried it. Finally a treatment that doesn't hurt so much I cannot stand being touched. The circulation in the treated areas was fantastic and it relieved the pain.
Cupping has proven its worth for me. I read a study that showed improvement in plantar fasciitis with cupping.  The bottom of my foot is sensitive but surprisingly was able to take a significant amount of suction with no discomfort.  The study I read had participant has plantar cupping twice a month. I may try a more frequent sessions to hopefully get faster relief and healing.