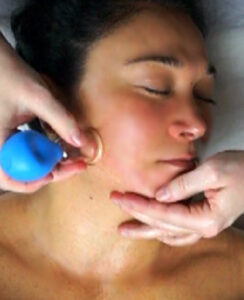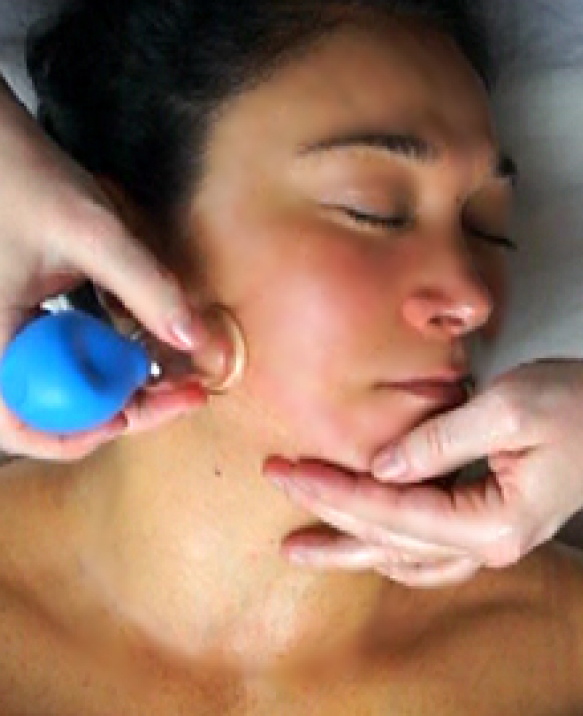 What if there was a way to turn back the clock on our skin?
The Facial Cupping Rejuvenation protocol combines Acupressure, Thermotherapy, Facial Cupping and Lymphatic Drainage and proprietary topical skin foods in to a synergistic, highly effective, inexpensive and relaxing facial odyssey.
The combined results are outstanding.
Acupressure – Precise finger placement and pressure over specific points along the body. TCM theory describes special acupoints, or acupressure points, that lie along meridians, or channels, in your body. Vital energy flows through these channels as a life force called qi (ch'i). 12 major meridians connect specific organs or networks of organs, organizing a system of communication throughout your body. The meridians begin at your fingertips, connect to your brain, and then connect to an organ associated with a certain meridian.
Contrast Thermotherapy is the inducement of circulatory gymnastics with the use of hot and cold stones to massage the face, neck and décolleté. The action of contraction / expansion increases and normalizes blood and lymphatic circulation, stimulates the Vagus, Trigeminal and Facial Nerves, firms exfoliates the hypodermis, increasing the excretion of toxins, while increasing the pores absorption of oxygen and topical products.
Facial Cupping is an ancient technique of rejuvenation with powerful anti-aging benefits. Facial cupping is becoming extremely popular in the western world as a natural alternative to Botox and invasive facial treatments. Facial Cupping increases circulation, plumps lines, lightens scars, while toning the muscles and draining stagnant lymph using the Bells and Belletazze Facial Cups.
Wrinkles, age spots and sagging skin are just a few of the many beauty concerns that plague us as we age. Why do we get crepey skin, anyway? It's because our underlying tissues get dry, compressed, and adhered together. To keep our skin youthful, our skin cells must have enough space for blood, oxygen, and nutrients to flow in and for dead cellular debris, stagnant lymph and impurities to be drawn out.
The decompression from the cups lifts and tightens the epidermis, reduces pore size, and can even help with discolorations and spots helping to sculpt a more youthful appearance. In addition to smoothing out existing wrinkles Facial cupping also works to stimulate collagen production – creating firmer skin that glows with youthful health.
Healthy collagen is the key to delivering proper nutrition to the skin. Collagen fibers are arranged in parallel to each other, loosely packed. In the spaces between them are thin channels filled with tissue fluid. It is through these tiny channels that the capillaries transport nutrients to the surface of the skin. As we age, collagen fibers lose their hydrophilic properties and collagen becomes "hard" and unable to perform its function of moisturizing and elasticizing the skin. Cupping massage will reinvigorate the fibers and thyxolating and mobilizing collagen.
__________________________________
Understand the different therapies involved in this synergistic protocol – why to use them and how they act together.
Recreate the proprietary masque from raw ingredients – examine the ingredients used and create a living facial masque for immediate use.
Provide and receive this remarkable treatment in workshop lab – not only do your learn how to provide this outstanding treatment, but you will also experience this remarkable treatment first hand.
Students receive a workbook with the protocols, charts and forms to replicate the same treatment using the tools provided at this workshop.
Included in the cost of the workshop is the Master Facial Cupping Set (Bells & Belletazze), Facial Stones and a catalog of Facial Recipes.
Beyond this protocols' already amazing rejuvenation results it also addresses:
TMJD, Trigeminal Neuralgia, Neurofibromatosis, Bells Palsy, Stroke, Eczema, Dermatitis, Benign Skin Lesions, Headaches, Migraines, Sinusitis, Acne, Eye Strain, Dystonia, Facial Tics, Urticaria, Dermatitis, Rosacea.
Tuition
Facial Cupping Rejuvenation
$395. usd
$350. usd – 30 days advance
Oct 2023
Nov 2023
Dec 2023
Jan 2024
Feb 2024
Mar 2024
Apr 2024
May 2024
Jun 2024
Jul 2024
Sep 2024
Oct 2024
Nov 2024
Dec 2024
CONTRAINDICATIONS FOR CUPPING
Cupping is contraindicated in cases of severe diseases, lesions, bulging discs, injection sites, organ failure, ascites due to hepato-cirrhosis and severe edema, as well as hemorrhagic diseases such as allergic pupura, hemophilia and leukemia, and clients with dermatosis, destruction of skin, or allergic dermatitis. Cupping should not be applied on the portion where hernia exists or has occurred in the past. For pregnant women, the lower abdomen, medial leg and sacral region should be avoided. Professional Cupping Therapists practice pre-session assessments – not only at the time of initial intake but every time they prepare to administer Cupping Therapy on their clients. Client needs can change from day to day – addressing those needs can also change.
Disclaimer
Information on this site is provided for informational purposes and is not meant to substitute for the advice provided by your own physician or other medical professional. You should not use the information contained herein for diagnosing or treating a health problem or disease, or prescribing any medication. As a non-medical practitioner, if you have or suspect that you have a medical problem; promptly contact your health care provider. Information and statements regarding Baguanfa have not been evaluated by the Food and Drug Administration and are not intended to diagnose, treat, cure, or prevent any disease.
© 2004 ICTA – All content on this website is Copyright Protected.
Redistribution of any kind or media is not legal without permission.