The Clear Baguanfa TM Cups are 100% Medical Grade silicone. These are transparent so you can see what is happening inside the cups. An excellent choice for Dynamic Cupping, Aquatic Cupping, PediCupping, Massage Cupping, Stationary Cupping, ThaiCupping, and Sports Cupping.

EarthSpa R&D Shipping Policies
EarthSpa R&D ships 2 times per week – Monday and Thursday, unless other arrangements have been made.
We are an environmentally conscientious company and will recycle shipping materials whenever possible.
We have provided a number of different shipping option through UPS and USPS.
For International Shipments – you must contact us before you place your order with both the items you wish to order and your full shipping address so you can be provided accurate shipping costs.
Your payment must include your shipping costs.  Please take the time to find out your shipping costs in advance to placing your order.
EarthSpa R&D Cupping Equipment Returns Policy
No merchandise can be returned for credit or exchange without authorization.
No return will be accepted after 14 days from the date of delivery to buyer.
We will replace all dysfunctional equipment.
Once equipment is returned to EarthSpa R&D, inspected and found to be dysfunctional, we will send a replacement and refund the buyer of their return postage costs.
Returned medical equipment must be unused in its original packaging.
A 20% restocking charge of the invoice amount will be applied to all authorized returns.
This return policy does not apply to special order items.
We do not authorize or accept returns or issue exchanges based on:

1) The user not knowing how to use the equipment or because there is no training brochure.
Our training is provided in a workshop forum, with highly trained and experienced Cupping Professionals.
2) The user wanting a different Cupping set.
IF YOUR RETURN QUALIFIES – contact EARTHSPA R&D to receive a RMA (Return Merchandise Authorization) and write that RMA code on the outside of the returning box.
Cupping Tools are serious medical devices.
Please do not order this medical equipment if you do not know how to safely administer Cupping Therapy.
In purchasing this medical equipment, it is assumed that those using this equipment are trained in Cupping Therapy and know how to use the equipment.
Please do not call or email us for instructions on how to do Cupping Therapy. The ICTA provides thorough training for those wanting to learn. Please see the ICTA Workshops page for more information on training opportunities.
EarthSpa R&D Shipping Policies
EarthSpa R&D is the only company in North America that produces Cupping Equipment. All other Cupping equipment companies are outside the United States, many of which produce cheap knockoffs of the original designs introduced by EarthSpa R&D starting in 2004. We are proud to produce our equipment in America and maintain the highest quality standards that far the replications of our equipment.
Earth Spa R&D works hand in hand with the International Cupping Therapy Association and supports both their live Cupping Workshops and their online equipment availability to both medical professionals and consumers.
The EarthSpa Cupping equipment line includes the most traditional and recognized types of Cups including the Kangzhu hand pump set, and the redesigned and improved hand blown Fire Cupping sets made with Borosilicate lab glass specifically for traditional Fire Cupping.
Our partners that already were producing the Kangzhu and the Biomagnetic Haci designs worked with the EarthSpa team over the last 20 years to enhance their designs for greater efficacy, longevity and ease of use. We've insured that the quality of materials are of the highest standard, that the grade and gauss of the magnets used in the Biomagetic Cupping sets are the highest and that the polarities match the medical color coding system, which was not the case 20 years ago.
For the hand pump set we trust most – we have remained committed to the Kangzhu Company because they are the first to market with what we consider to be the most outstanding hand pump set available. We pretty much love everything about the original Kangzhu set with its easy to operate hand pump, a full spectrum of cup sizes (even a cool curved cup for arms and calves) and durable and non-toxic heavy duty plastic material the cups are made of. The interchangeable negative and positive polarity static field magnets with non-penetrating pressure-giving points, delivers balanced Biomagnetic Therapy. The magnets provide a continuous magnetic field into the tissue when installed in the cups.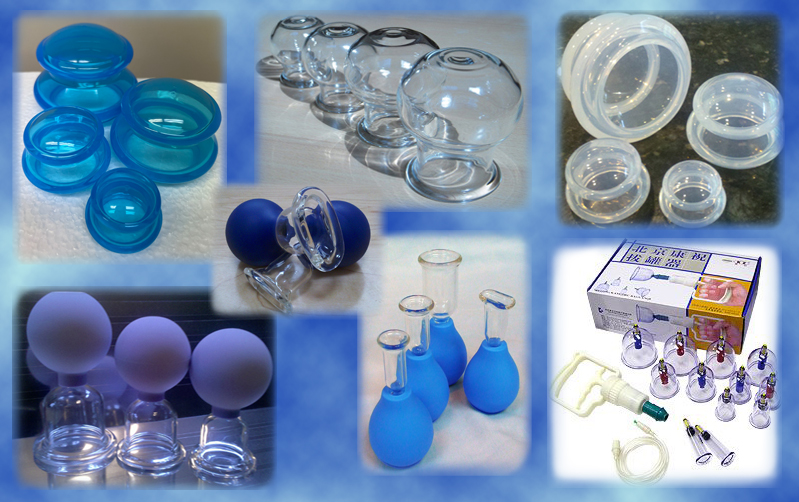 For those just investigating different hand pump sets – the Dong Bang set is a solid quality set but the valve design does not allow the end user to do maintenance cleaning. The valve and chamber must be cleaned from time to time as residue builds up preventing the valve from operating correctly. Kanghzus' simple design allows the therapists the ability to keep their set in top operational condition for many years of consistently high quality applications. Additionally the design of the connective tubing is such that different lengths of tubing can be inexpensively tailored to fit the individual therapist needs.
In our efforts to be able to supply equipment designed for the modern cutting edge Cupping services being developed by the ICTA team of Cupping therapists, researchers and members – we have been driven to design and produce proprietary cupping sets that allow the Cupping Therapist to provide the most effective and comfortable treatments while maintaining the quality in materials that give our equipment the longest life possible.
Several designs were devised to support specific Cupping methods and once the equipment had completed prototyping and was released for professional use we learned Cupping Therapists found a plethora of new treatments the new designs could improve on – very exciting.
Our aspirator sets – the 4 piece Belletazze Facial Set, the 3 piece Bells, 2 and 3 piece Oval Tools cannot be matched in quality, durability and ease of use. All our glass is artisan hand blown borosilicate lab glass beauties attached to high grade plant based silicone bulbs and are all made in America.
Another now widely used and recognized type of cups is the Baguanfa Cups which we put into action in 2005. The Baguanfa Cups have gone though many material prototype improvements over the years, thanks to the input from the thousands of ICTA Members that provided real time feedback to the efficacy, longevity and usability. There were lessons learned and corrections made to ensure that the Original Baguanfa cups exceed the expectations of the modern Cupping Therapists demands.
The Baguanfa Cups are used widely in treatments for athletes in event preparation, maintenance and recovery as well as those with orthopedic and stubborn conditions. A new type of Cupping method was born with the advent of the Baguanfa cup called Dynamic Cupping where the cups stay stationary while the tissue below is in motion, adapting to and deforming in accordance with the movement and changes in the joints and tissue they are attached to. Dynamic Cupping is not possible with rigid cups, but with the flexible cups – it is fully achievable… and remarkable.
Cupping underwater can also now be done with the Baguanfa cups as they induce the negative pressure inside the cup by the reduction of internal space when applied over the requirement of air being reduced – air is not an active component with the Baguanfa cups – this is referred to as Aquatic Cupping.
In 2012 we began working on a prototype that uses the Baguanfa Cups and integrated Tens for ElectroMagnetic Cupping. Once the controller prototype has completed the trials and testing it will be implemented into public access for further application and review.