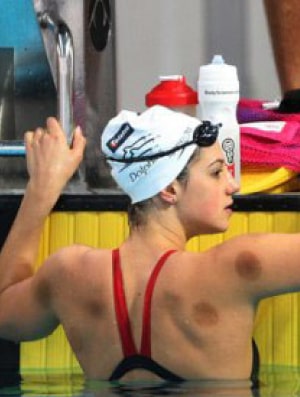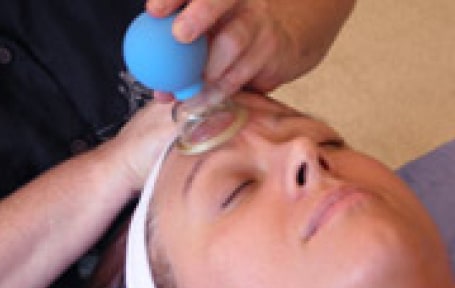 Classroom (breaks as needed)

Orientation
Cupping – History, Theory and Equipment
Benefits and Applications
Safety and Sanitation
Cellulite

Demonstration and Lab Exchange

Intro to Massage Cupping
Russian Cupping Massage
Chinese Flash Cupping
Greek Flash Cupping
Thoracic Cage Expansion
Negative Pressure Manual Lymphatic Drainage (NPMLD)
Cellulite Treatment
Area Specific NPMLD
Equipment Maintenance

Homework: Rest and Hydrate.

If you feel sore an Epsom Salt bath or Warm Shower will help ease the discomfort.
Classroom (breaks as needed)

Day 1 TX effects roundtable
Fascia System
Lymphatic System
Biomagnetic Therapy

Demonstration and Lab Exchange

Massage Cupping Expanded
Posterior Shoulder and Neck Decompression
Cervical/Sacral Spinal Stimulation
Decompressing the ESG's
Myofascial Cupping the Posterior Thoracic Layers
Biomagnetic Blanket
Area Specific NPMLD
PediCupping Treatment
Area Specific NPMLD
Dynamic Cupping for Sports and Orthopedic Conditions
Area Specific NPMLD

Homework: Rest and Hydrate.

If you feel sore an Epsom Salt bath or Warm Shower will help ease the discomfort.
Classroom (breaks as needed)

Day 2 TX effects roundtable
Marketing
Abdominals
Facial Cupping

Demonstration and Lab Exchange

Abdominal Cupping
Area Specific NPMLD
Scalenes M/P/S Cupping
TMJ Release
Sinus Decompaction
Area Specific NPMLD
Facial Cupping Protocol
Equipment Maintenance
Equipment Purchases
Feedback Forms
Cupping Practitioner Certificates

________________________________________________________

Get Busy Changing Lives!
Each State and Province has their own regulations and laws regarding licensing of healthcare practitioners. It is your responsibility to understand and work within your medical license scope of practice.
1) The first prerequisite to attend the Contemporary Cupping Methods training is the completed study of *Full Human Anatomy & Physiology (A&P). Partial or introductory classes are not acceptable (see below description of Full Study A&P).
(The ICTA does not teach A&P, as A&P is part of all core curriculum of formal medical training.
As continuing education providers, our objective is to extend the knowledge beyond the core competencies of any given field of healthcare training. We require that ALL CCM Student Practitioners are knowledgeable with all the systems, pathologies, structures, terminology, movement, contraindications and safety considerations covered in Human A&P.
If you do not know what A&P is or have not completed this medical fundamentals training, then you will need to take it upon yourself to complete this basic level competency to meet this part of the prerequisites for the ICTA programs.
* The following subjects are covered in the Full Study of Human Anatomy and Physiology
Medical Terminology
Pathologies
Systems:
Integumentary
Circulatory
Endocrine
Nervous
Digestive
Urinary
Reproductive
Musculoskeletal
Respiratory
Lymphatic
2) The other prerequisite to attend the CCM Program is that your medical training or professional experience includes hands on bodywork where you performed soft tissue manipulation, joint work and Kinesiology techniques.
This is a really important aspect of being prepared to do safe, effective Cupping Therapy. Having sufficient experience working on muscles & support structures, understanding movement, gait, posture, contraindications of soft tissue manipulation and the problems affecting the system after bodywork is mandatory.
If you have not worked with the human body soft tissue and related joints using your hands, then you are not prepared to do safe, effective Cupping Therapy, and you will not be approved to attend.
Continuing Education Boards
CATA

Canadian Athletic Therapists Association

9.6 Ceu

CDHE

Colorado Division Of Private Occupational Skills

§23-64-101

CE Broker
FL Board Of Massage
FL Board Of Acupuncture
FL Board Of Athletic Trainers
24 Ceu

CMMOTA
Canadian Massage & Manual Osteopathic Therapists Association

12 Ceu

DCA
CA Board Of Acupuncture

24 Ceu

LABMT
CA Board Of Acupuncture

24 Hrs

MTAA
Massage Therapy Association Of Alberta

12.25 Sec Hrs

MTAM

Massage Therapy Association Of Manitoba

24 Core Hrs

MTAS
Massage Therapy Association Of Manitoba

20 Prim Hrs

NCBTMB
National Certification Board For Therapeutic Massage & Bodywork

24 Ceu

NHPC
Natural Health Practitioners Of Canada

15 Pts

NYSED (NCBTMB Sponsored)

New York State Education Department

24 Ceu

NYSED (NCBTMB Sponsored)

Texas Department Of Licensing & Regulation

24 Hrs

VSAC
Vermont Student Assistance Corp

24 Hrs

Contemporary Cupping Methods Schedule
Dec 2022
Jan 2023
Feb 2023
Mar 2023
Apr 2023
May 2023
Jun 2023
Jul 2023
Aug 2023
Sep 2023
Oct 2023
Nov 2023
Dec 2023
Each day consists of audio/visual presentations, lecture, Q&A, demo, then hands-on application of the treatments demonstrated during lab – each student will perform the treatments and receive during the afternoon student exchange format.
Students receive a comprehensive manual with various charts and forms.
5 different cupping sets are used in lab – Kanghzu Biomagnetic Cups, EarthSpa Bells, Clear Baguanfa Silicone Cups, Blue Baguanfa Silicone Cups, and the Belletazze Facial Cups. Equipment and supplies are provided for the students use with optional purchase at the end.
** The Following is provided at the discretion of the Director of Education.
Post workshop ~ Once you have completed the training, you become a member of the International Cupping Therapy Association. ICTA Members have access to valuable documents, graphics, marketing materials, studies, reports, training opportunities and support.
ICTA Members have the option of being listed on the online international database of Certified Cupping practitioners, which assists the public in locating qualified, trained therapists.
ICTA Graduates have the privilege to retake the CCM workshop as a Teaching Assistant at no cost during 1 calendar year following their graduation. (T.A. positions are limited to 2 each workshop).